After deciding to invest in real estate in Florida, many investors are starting to consider Miami, the biggest city on the state's southern shore. Let's discuss if it's more advantageous to purchase luxury homes in the very centre of the metropolis or in Hollywood, a coastal community in Greater Miami's metropolitan zone, spanning the Atlantic for approx.100 kilometres.
Content:
Busy resort or coastal village
The desire to purchase villas in Florida on the Atlantic coast is popular. The Sunshine State has seen a sharp increase in home demands in recent years. Apartments in development projects in Florida are highly in demand. Even with this increase, real estate costs in Miami and other major cities in the state are still lower than those of upscale homes in other well-known cities like New York and Los Angeles.
Let's compare the cost of housing and the quality of life in Miami and Hollywood.
After Jacksonville, Miami is the second-largest city in the state and also the most famous. It is glorified by the popular culture, with a huge part of its infrastructure geared toward tourists. The peak tourist season in this place lasts from October to May, with the city's streets and beaches flocking with tourists from other countries and other American states. The city has been transformed into a vacation destination by the beach lifestyle, affluent residents, and virtually endless entertainment opportunities. Miami's year-round bustling lifestyle extends well until dusk.
Purchasing houses in Florida, Miami, or on the island of Miami Beach highlights the prestige and social standing of the owner. The first line along the coast is where the most expensive and elite residences in Miami can be found, including the luxury villas of numerous international celebrities.
Today, Hollywood, which is 25 kilometres from the Miami city centre and situated on the shore, is the tenth-largest city in the state. Investors are drawn to this area due to a slower pace of life than in downtown Miami, the lower tourist influx (not everyone likes tourist crowds), and the lower real estate costs compared to other well-known Florida resort areas.
Hollywood is currently growing quickly: upscale apartment buildings, hotels, and restaurants are being developed on its streets. The population of the city is gradually increasing.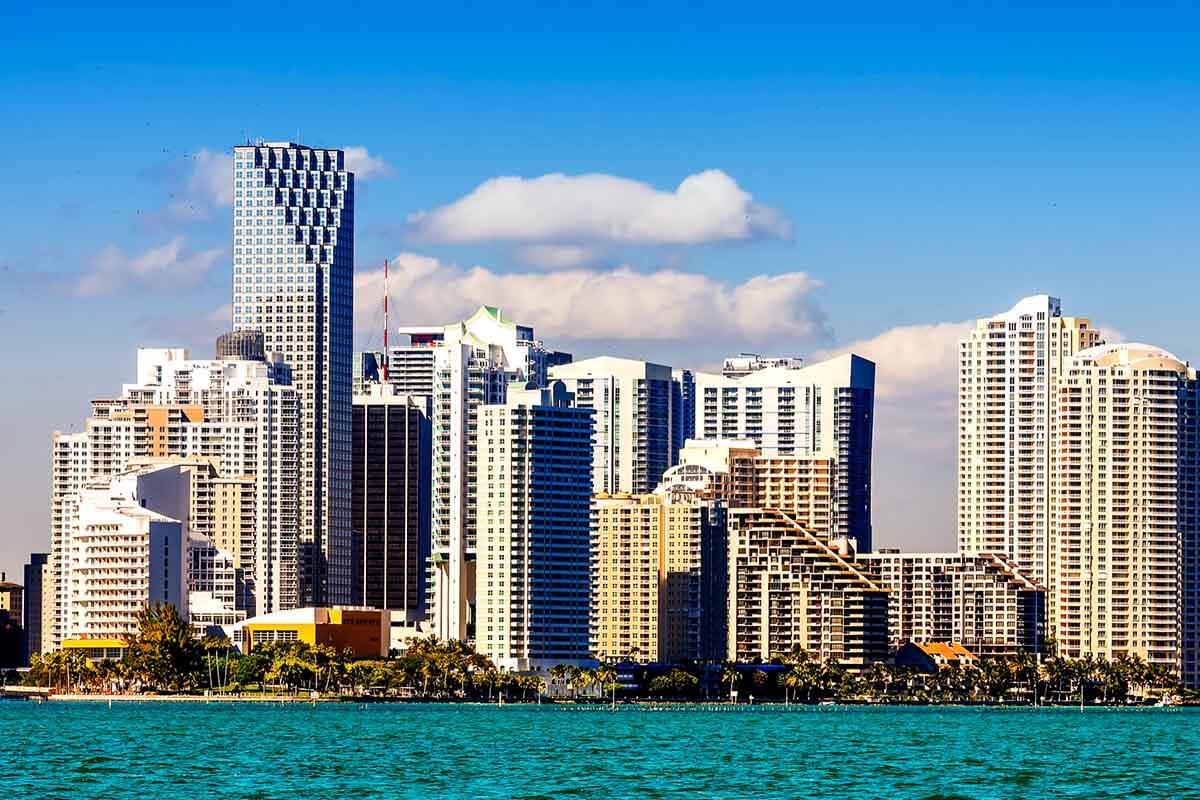 The real estate market situation in Miami and Hollywood
There is currently a lack of supply in the Miami real estate market. Premium real estate is quickly disappearing from the market due to the high demand for newly constructed homes in Florida in the region. In 2022, Miami property prices will rise by almost 27%.
Statistics for 2022 show that Hollywood's housing costs are 14.9% less than Miami's. As there is less of a demand for exclusive real estate in Hollywood than in the nearby city, there are more opportunities to buy a home close to the shore. However, when buying villas or flats in Florida, many investors base their decision on the distance of the beaches.
Rental business in Miami and Hollywood
Each buyer chooses real estate in Florida based on his personal goals. Some people choose homes for investments and rent them out, while others do so to settle permanently in a warm state. The plans of the possible landowner in the region have a significant role in the decision of where to buy a home.
Rental properties are highly in demand in Hollywood. Statistics show that only 19.7% of the settlement's residential buildings are now occupied by the owners; the others are rented. It would be more of a rational decision for investors to choose Hollywood given the renters' interest in the city. Moreover, the local real estate market currently shows cheap mortgage rates. Although they have not increased, prospective investors in residential properties covered by the settlement anticipate more advantages.
Miami, however, continues to be the commercial and tourist core of Florida, attracting visitors from around the globe as well as IT specialists and business owners. One of the most desirable investment properties in the United States is the city's real estate. Miami developers keep announcing new projects, making it possible to acquire residential units while still under construction, despite the lack of available supply. Housing is rented out at ridiculous rates in popular parts of the city e.g.,Wynwood. However, compared to houses in Hollywood, buying even a small residential property here will demand a higher initial payment. Due to the lower initial property costs in Hollywood than in Miami, the rental industry generates larger returns.
While deciding where to buy a property when moving to a new state to live there permanently, you should consider your reasons for moving, your preferences, and the unique characteristics of the area. It's important to keep in mind that Miami's inland areas are generally thought to have higher crime rates.
Professionals moving to Florida for work should focus on Miami, where the city's business district is more established. The Hollywood setting will be more pleasant for those looking for a villa to reside in with their families.
Enthusiasts of a quiet and measured life will enjoy Hollywood, which is frequently misunderstood by tourists as a tranquil neighbourhood of one of the larger cities due to its small size and proximity to Miami and Fort Lauderdale. But those who enjoy wild entertainment and vigorous fun will favour Miami Beach and Downtown Miami. As a result, when renting space, property owners in Miami and Hollywood will deal with various types of tenants.
Miami continues to be the most sought-after luxury real estate in the state. Investors should never undervalue tiny coastal towns, particularly the incredibly well-located Hollywood, whose residential market is less competitive and has a significant growth potential.