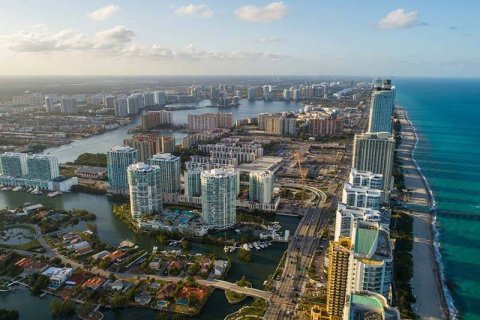 Last December, the sales of residential properties in South Florida dropped sharply. The price growth in Miami-Dade, Broward, and Palm Beach counties also slowed down, according to the Miami Association of Realtors that analyzed sales on multiple listing services. In monetary terms, the sales in these three counties amounted to $3.4 billion, which is 50% less than the $7 billion in December 2021. The South Florida real estate market hit historic highs in 2021.
Residential sales in Miami-Dade County reduced by 48% year-on-year, down to almost 1,800 closed transactions. When analyzed separately, sales of single-family houses dropped by 45% and those of condominiums, by 50%. The median price of single-family homes increased insignificantly, reaching $530,900 (only by 1%), and of condos, by 5.5%, up to $374,500. The transaction value was $1.2 billion. This indicated a 64% slump compared to last year for single-family houses and a 55% slump, for condominiums.
The performance of Broward County was similar. The general sales dropped by 40%, as 43% fewer single-family houses were sold, and 38% fewer condominiums. The median price of these properties grew by 6%, up to $530,000 and by 8%, up to $255,000, respectively. The total value of transactions reached $1 billion.
The sales performance of Palm Beach County was typical for South Florida. It reduced by 40% compared to last year in general, by 38% for single-family houses, and by 43% for condominiums. The median price of residences was somewhat higher here, though, reaching $545,000 for single-family houses (a 4% growth) and $300,000 for condominiums (a whopping 14% growth). The value of sales closed in this county was $1.2 billion.