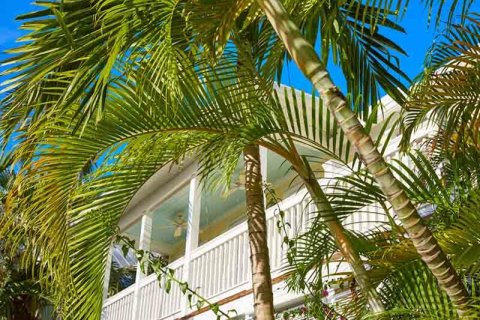 The state of Florida, which occupies a peninsula in the Southeastern United States, has one of the longest coastlines of any state in the country, a rich history, and a hot climate: tropical in the south and subtropical in the north. Every year it is visited by millions of tourists—both Americans and travellers from all over the world. Some people come for a short eventful holiday, while others seek to buy real estate in Florida and move to this warm land forever. The former are attracted by the resort Florida lifestyle and local attractions, while the latter by the low cost of living, the sun, and affordable prices for houses or apartments in Florida.
We have picked several unique locations worth visiting for anyone who travels to this tropical state on holiday or in order to find a villa on the coast or a luxury apartment in one of the new development projects in Florida.
Content:
Key West
From the southern tip of the peninsula, about 100 kilometres from Miami, a chain of islands extends into the sea towards Cuba. These are the Florida Keys. On the southernmost of the islands is the city of Key West—a tourist mecca and a paradise for liberal-minded, wealthy Americans who buy old wooden houses built in the 19th and 20th centuries here to spend the winter months sipping cocktails under a sprawling banyan tree.
Cockfighting used to be popular in the city. It was eventually banned, and roosters were released. Wild roosters and hens roam the public gardens of Key West with their chicks and spend nights sleeping in the branches of local trees. The growth of their population is curbed by cats—there are no other predators on the island. Bright red gorgeous roosters are a symbol of Key West and a true gem of its streets.
Ernest Hemingway lived and worked in Key West, and there is a home and museum in the city, where six-toed cats, descendants of the writer's six-toed cat, still live. If you make a trip to the museum, you will probably come across a cat sleeping on a bed in one of the rooms. At night, Hemingway's cats go out to hunt, and woe betide that baby chick that has lagged behind its mother hen and cannot protect itself. There are at least three bars in the city "where Hemingway used to drink."
Key West can be reached via the famous US Highway 1. Fans of action movies starring Arnold Schwarzenegger could see it in one of the scenes in True Lies. The highway runs over 160 kilometres, connecting the entire chain of the Florida Keys and stretching from the nearest island to the mainland, Key Largo (where Donald Trump's favourite residence is located), to the farthest, Key West. There is a buoy monument in Key West indicating that this is the southernmost point in the United States. The drive from Miami takes about four hours. You can also take a plane, as there is a compact local airport in Key West that accepts small planes. Finally, you can reach Key West by water: the city has a cruise port that accepts high-tonnage ships. (Locals are fighting for its closure, but have not achieved anything so far.) However, if you want an authentic American experience, a car is better after all: this method of transportation allows you to stop on other islands on the way to Key West, check out off-plan projects in Florida between Miami and Key Largo, see the ruins of the railway, which once carried trains to Key West (it was destroyed by one of the hurricanes in the early 20th century), and swim in the emerald water of Florida Bay.
There is a coral reef near Key West and along the entire chain of islands. It is a popular diving and snorkelling destination. Yachting and deep-sea fishing enthusiasts can also easily find a company providing corresponding services here.
Whether you are a tourist or planning to buy a house in Florida and reside there, Key West is one of the places in Florida worth visiting at least once in your lifetime.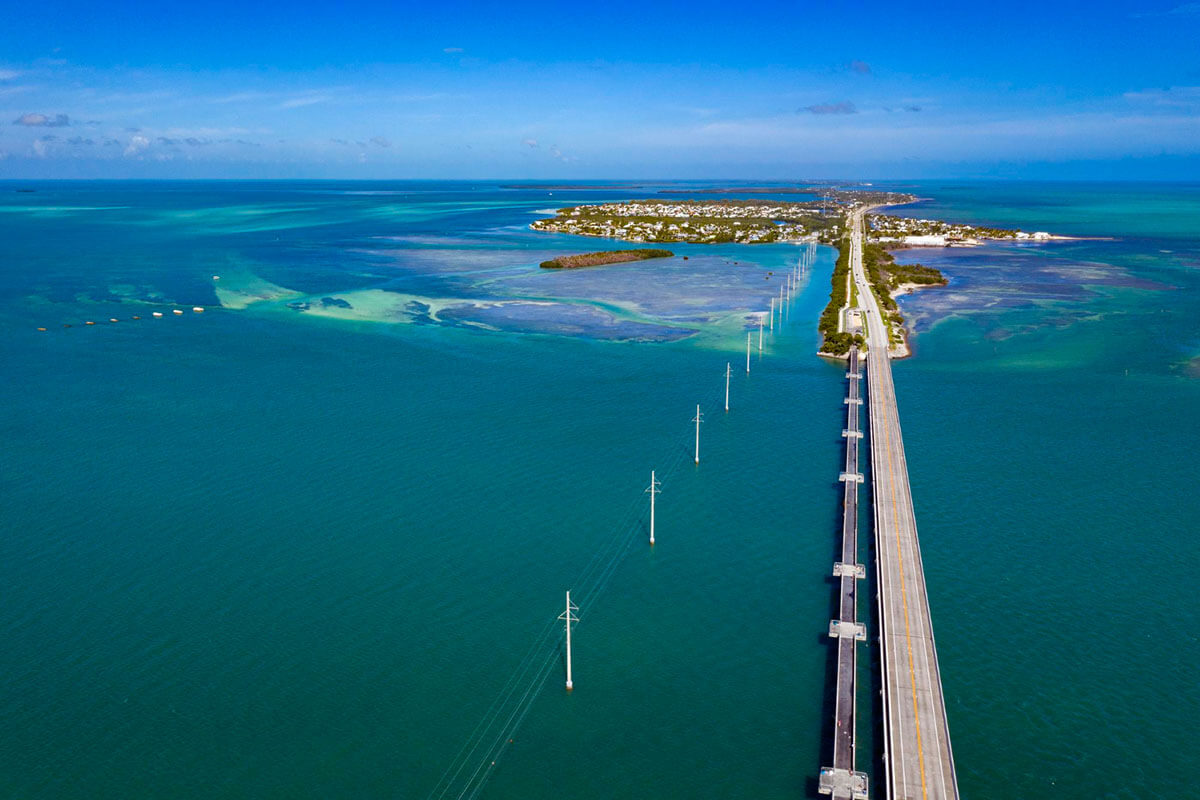 Miami Beach
Located on a barrier island opposite mainland Miami and connected to it via bridges, Miami Beach is divided into southern and northern parts. While the latter is more peaceful and residential, the former is exuberant, youthful, with a vibrant nightlife and luxury on display. You can't come to Miami and not get to Miami Beach with its Botanical Garden, art deco villas, and magnificent beaches! Running along the sea in South Beach, Ocean Drive is an endless string of expensive boutiques, vintage hotels, cafes, and restaurants. Music fills every corner, and beautifully dressed people are here ready to impress and be impressed. Athletes work out on the beach. People walk and have fun. Expensive cars drive slowly along the street, with their owners showing off their wealth. Gold chains glitter around the necks. Fashionistas carry designer handbags. This is one of the most colourful streets in the world, where everyone is young, beautiful, rich or pretending to be rich—visiting it will linger in your memory for a long time.
Everglades
The Everglades reserve occupies a huge space in the south of the peninsula and begins almost on the outskirts of Miami, on the inland side. It is inhabited by alligators, crocodiles, various birds, and snakes. When visiting, be careful and keep an eye on children. As everywhere in Florida, alligators can be found in any body of water, and these animals are known for being much faster than they want you to believe when lazily lying on banks or relaxing in the water. "Beware of Alligators" signs in Florida should be taken very seriously.
There is a highway running through the Everglades, which connects Miami to cities on the west coast of Florida such as Tampa on the Gulf of Mexico.
Many tourists think of the Everglades, with its standing waters and tropical vegetation, as something like a huge swamp, but in fact, it is a huge river with a very slow flow, about 100 kilometres wide and 160 kilometres long. It begins near Lake Okeechobee—often referred to as Florida's Inland Sea—and flows into Florida Bay.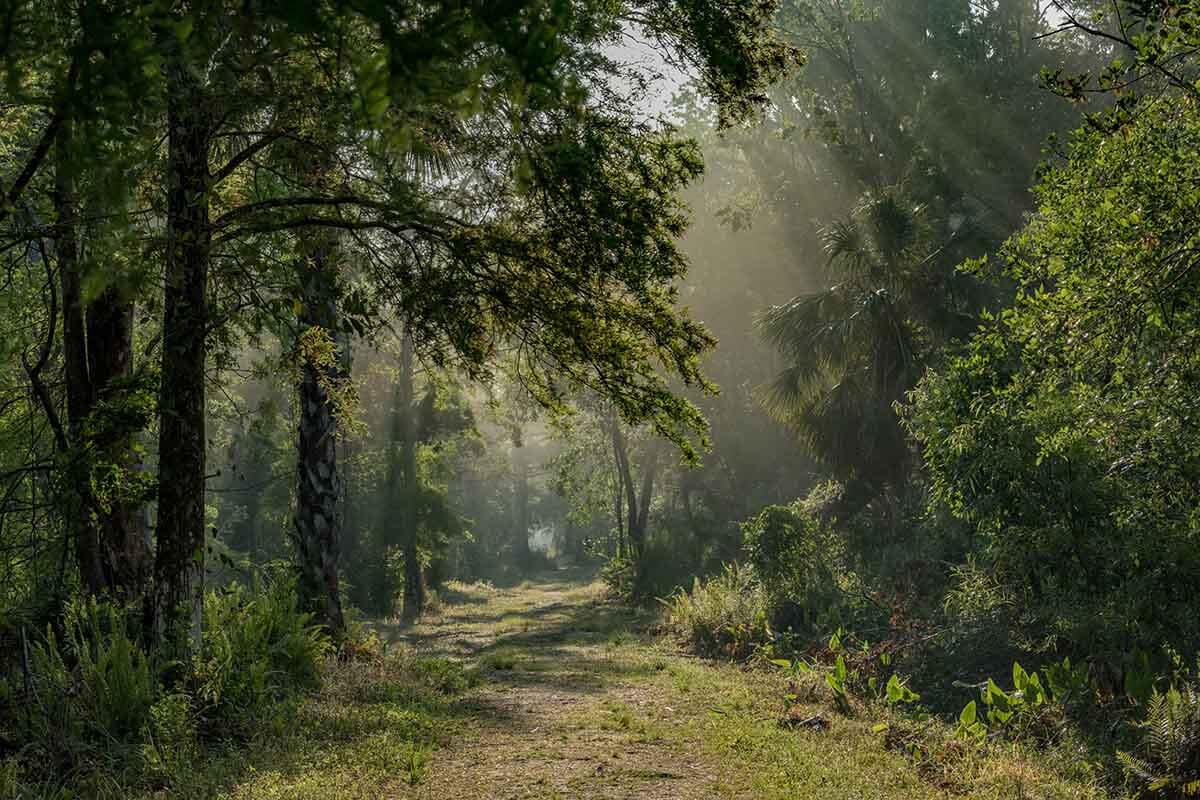 Orlando amusement parks
Orlando in Central Florida is home to more than a dozen theme parks, which attract millions of tourists every year. Parks are major employers in this city. The Wizarding World of Harry Potter, Universal Studios Florida, Magic Kingdom, Disney's Animal Kingdom, SeaWorld Orlando, and other amusement parks offer an ultimate holiday experience: they have hotels on site, so you can spend your entire holiday without leaving the park.
A wide variety of numerous rides and themed playgrounds will be a special memory for children for many years.
Cape Canaveral on the Space Coast
Cape Canaveral, officially called Cape Kennedy from 1963 to 1973, is located roughly at the same level as Orlando and is part of the region known as the Space Coast. It is home to the Cape Canaveral Space Force Station. Since many American spacecraft have been launched from both the station and the Kennedy Space Center on neighbouring Merritt Island; the two are sometimes conflated with each other.
Here, you can visit Kennedy Space Center Visitor Complex and see unique objects such as a rock brought from the Moon by American astronauts, the first shuttles that launched rockets into space, space suits, and other exhibits. If you are lucky, you can buy a ticket to the viewing area and watch a launch. Although it is worth knowing that space launches are often scrubbed, and there are no refunds if this happens.
Cape Canaveral is also home to a national park with a huge variety of exotic birds and animals. You can spot an armadillo roaming along the trail, plovers, the ubiquitous Florida crocodiles, and other animals that are rarely seen in the wild by a modern urban dweller. But, of course, tourists are drawn here mainly by the rocket launch site.