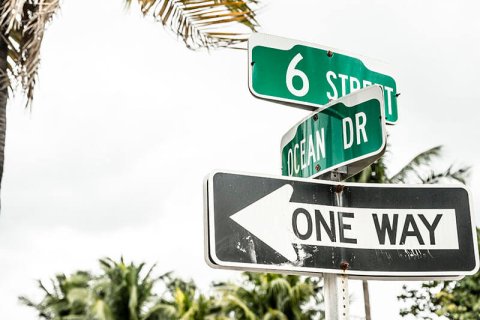 The state of Florida occupies a large namesake peninsula in the southeast of the USA. The distance between the state capital of Tallahassee in the north of the peninsula and the most famous Florida metropolis of Miami in the south is almost 800 kilometres. How do Floridians move around in cities and between them? How is public transport on the peninsula and what are the best places to buy real estate in Florida if you do not drive a car? Read on to find answers to these questions.
Content:
Public transportation in Florida
In 2023, the public transportation system in Florida, as in most US states, is much inferior to that in most other developed countries of the world. The residents of the peninsula traditionally rely most of all on private cars or planes as means of transportation, with the latter used for long-distance travel. Say, from Miami to Tallahassee, a Floridian is likely to fly with one of the regional airlines. However, for those who are thinking about buying a house or apartment in Florida and do not plan to get a local driver's licence, there are other transportation options besides the classic American car and plane combo.
Intercity buses in Florida
Bus travel between Florida cities and towns is affordable and quite popular, especially among low- and middle-income populations. You can take a bus in Miami, either a day or night one, and get off it in Tallahassee in 10 hours. The cost will be relatively cheap, ranging from $30 to $60, depending on how far in advance you purchase the ticket and from which company. One of the major providers on long-distance lines is Megabus; the other is the famous Greyhound, whose buses and service, however, are somewhat worse than those of the first company. A 380 km trip from Miami to Orlando will take about 4.5 hours; a ticket in May 2023 will cost you about $20 to $40. From a house in Florida in the Greater Miami area to the bus station, however, you will most likely have to take a taxi: bus routes within cities, even large ones like Miami, are underdeveloped.
Intercity buses in Florida do not have the onboard amenities that are commonplace in Europe: built-in TV screens, coffee and tea machines, free newspapers, free wi-fi, and sockets for charging phones. As a rule, the only thing that a passenger can expect is that they will be taken from point A to point B.
Trains in Florida
SunRail commuter trains run in the Orlando area. They travel through the city from north to south and back, between the Poinciana station and the DeBary station, with several stops within central Orlando. Those who want to drive a car as little as possible can buy property in a development project in Florida within walking distance from one of the stations on this line and use the train to get to other parts of the city whenever needed.
Inner-city transportation
Buses and trolleys
Miami has a network of free trolley routes connecting different parts of the city, as well as paid bus lines, including express bus service between the international airport and downtown. If you buy an apartment in a development project in Florida, in the Miami Beach area, you will not need a car to move around—you can always catch a free trolley running along the coast or a bus to downtown.
There is also a network of inner-city bus routes in other major cities such as Tampa, Orlando, or Jacksonville.
Metro in Florida
Miami has the most developed public transportation system in Florida. Metrorail trains run on schedule and connect various parts of the metropolis with the airport and bus stations. A 1-day pass costs about $6, while a weekly pass is about $29. Residents of the metropolis note that the main problem with this type of transport is the insufficient number of stations and lines.
In Downtown Miami, Metromover trains run at the level of the third and fourth floors. The automated people mover system is composed of loops; the trip takes about half an hour. This free service is very popular among tourists.
There is a similar line in Jacksonville in the northeast of the state. The service called the Jacksonville Skyway is free but, unfortunately, it covers only a small part of the city—the total line length is only about 4 km.
There is no metro in the usual sense of the word, that is, underground system, in Florida.
Taxis
Taxis are a relatively inexpensive and popular way to travel short distances within cities in Florida. There are dozens of taxi services in the state, which can be ordered by phone or in an online application. One of the cheapest and most famous services is Uber.
What are the best places to live in Florida without a car?
Florida does have the public transportation system, but moving around for those who do not own a car is still quite difficult even within big cities and almost inaccessible in rural areas. Tourists travel around the state on buses, planes, and rented cars. Those who have purchased an apartment or villa in Florida and moved to The Sunshine State for permanent residence, as a rule, eventually come to the realisation that they will have to learn to drive and get behind the wheel. The only places where you can live a full life without driving are perhaps Greater Miami and Jacksonville.
There is only one walkable city in Florida where having a car makes life more difficult rather than improves it. This is Key West, located on the southernmost of the Florida Keys, stretching from the southern tip of the peninsula towards Cuba. The small city is famous for its entertainment venues, the Hemingway Home & Museum, where the descendants of his cats still live, wild roosters roaming the streets, beaches, and a coral reef in the sea nearby. A bicycle is enough to get around Key West—unless, of course, you plan to travel outside this resort city.