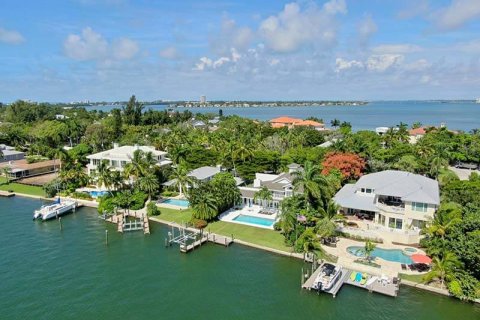 Sarasota is one of the favorite places for buyers to invest in luxury real estate. As of July 20, five luxury residential properties with stunning views, an upscale location, elegant rooms and a number of additional amenities are for sale.
The first property is a house of 281 m2 with four bedrooms for $825,000. It has a large swimming pool, a well-maintained private territory, a garage for three cars. The house is located near schools, educational centers, restaurants. Nearby there are medical and rehabilitation centers, as well as a rejuvenation Center and a surgery clinic.
Another house of 237 m2 with four bedrooms can be bought for $ 125 million. There is a garage for three cars, a storage room with air conditioning. The house is sold fully furnished, it has sliding glass doors between the dining room and living room, a spa center. The huge heated swimming pool is equipped with LED-lighting, turning evenings on private grounds into a tropical paradise. It has an automatic filling function and is heated from an underground propane tank. The well-designed kitchen is equipped with stainless steel appliances, a cozy breakfast corner has been created. Nearby the property is the Stoneybrook Golf and Country Club, two churches, Stoneybrook Country Club, Lotsa Loster Seafood Market. There are also a number of prestigious medical institutions nearby.
A mansion with an area of 294 m2 with four bedrooms can be purchased for $1.45 million. It has a spa-style bathroom with a Jacuzzi and a shower cabin. The living room has a view of the backyard pool. There are walk-in closets. In the kitchen there are granite countertops, a huge island with a place for bar stools, upgraded stainless steel appliances, a microwave and oven with convection in the wall cabinet, a large built-in pantry. The house boasts other amenities: a garage for three cars, remotely lowered blinds.
A 332 m2 villa with six bedrooms is for sale for $1.4 million. Located in the popular Woodlands community in Bent Tree. The master bedroom has walk-in closets, the house has a fireplace, a glazed patio area, a spacious swimming pool. There are schools, cafes, China Taste restaurant and other facilities nearby.
Another luxury house in Sarasota with an area of 132 m2 with two bedrooms can be purchased for $1.07 million. There is a large living room, dining room, kitchen with modern appliances. Access to the huge glazed veranda is through two large French doors. Entertainment and spa areas are provided. The house is close to schools and educational centers, including universities. Restaurants, markets, medical centers are located nearby.